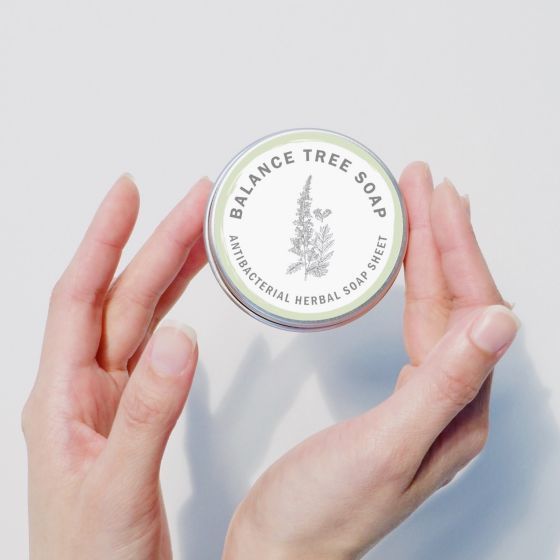 Prevention is better than cure. The best way to prevent infection is to ensure you practice good personal hygiene. This Antibacterial Herbal Soap Sheets lets you wash your hands nearly anywhere you go.
预防胜于治疗。预防,才是最佳确保个人的卫生的方法。这款抗菌皂片可让你去到哪都可以有肥皂洗手。
This soap sheet is added with artemisia powder and has been known as the fairy grass on earth since ancient times. It can treat skin care and prevent acne. Artemisia is a kind of natural skin-cleansing herb. It has strong anti-bacterial and anti-inflammatory properties, repellent, anti-itching effects, and maintains skin condition. It also has certain benefits for folliculitis and eczema.
这款皂片添加了艾草粉,自古被誉为人间仙草,可治疗护肤,祛痘的功效。艾草是一种天然的净肤良草,拥有较强的杀菌消炎、驱虫、止痒的作用和维持皮肤健康,对毛囊炎、湿疹也有一定的疗效。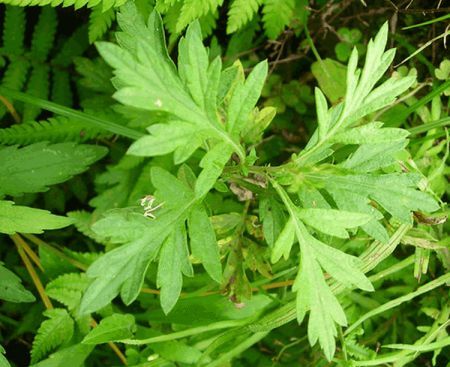 Just add water! Each pack comes with 55 thin sheets of soap that made with natural ingredients, with each sheet enough for 1 handwashing. Simple and convenient, which is very important now!
只需加水!每盒有55片用天然成份制作的肥皂,每片足以洗1次。简单又方便,是现在最需要的。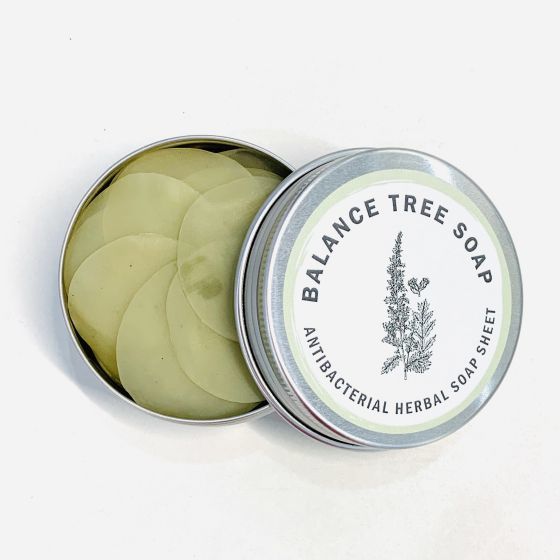 This soap sheet design aimed at raising awareness and changing behavior, to make sure people are washing their hands with soap regularly and disinfecting surfaces whenever they go. Unlike other commercial paper soap, our soap sheets are made from natural ingredients that are gentle to your skin and it's suitable for children as well. Thus, it's environmental-friendly too.
这款抗菌皂片的设计旨在提高人们的意识和改变现代人的生活习惯,以确保人们随时用肥皂洗手。与其他市场的纸肥皂不同,我们的肥皂是对皮肤柔和的天然成分制成的,也适用于儿童。因此,它也很环保的。
It's all about taking small steps towards mother earth so as to make this planet a better place for our communities and generations to come by creating less waste, reduce the usage of plastic, and many more. We packed these soap sheets in the aluminum container so you can reuse them for other purposes or recycle the container.
这款抗菌皂片的包装是迈向地球母亲的小步伐,目的是通过减少浪费,减少塑料用量等等,使地球成为我们社区和后代的更好居住地方。我们将这些皂片包装在铝制容器中,因此您可以将其重新用于其他目的或回收该容器。
SAFE ON SKIN: This Herbal Soap Sheet made with natural ingredients and Artemisia Argyi powder that has anti-inflammatory, purifying, and soothing properties. Suitable for all skin types. Alcohol-FREE, SLS/ SLES FREE, and Paraben FREE.
安全:这款草本肥皂片由天然成分和添加了艾草粉制成,具有抗炎,净化和舒缓的特性。适合所有皮肤类型。无酒精,无
SLS / SLES
和无对羟基苯甲酸酯。
CONVENIENT: Whether you are at home or in a mall, you'd want to be able to wash your hands thoroughly without using commercial soap with harsh chemicals that would make your skin dry. Each pack that fits right in your bag or pocket so you have soap to wash your hands anytime you need.
方便:无论您是在家中还是在商场中,任何时候都能够彻底洗手,而无需使用带有刺激性化学物质的商业肥皂,否则会使皮肤干燥。方便让您放在包包携带,因此您可以随时都可以用肥皂洗手。
NO MESS: Each soap sheet enough for 1 handwashing, as your facial cleanser and shower, you don't have to put the used soap back in your pack which may drip out.
无浪费:每个肥皂片足以进行1次洗手、洗脸、洗澡,您不必将用过的肥皂放回您的包装中。
ALCOHOL-FREE 无酒精
FRAGRANCE-FREE 无香精
SLS/ SLES FREE

无

SLS / SLES
ANIMAL FAT-FREE 无动物脂肪
Ingredients: Glycerin, Unrefined Shea Butter, Cocoa Butter, Mango Butter, Pure Coconut Oil, Artemisia Powder
成份:甘油,乳油木果油,可可脂,芒果脂,椰子油,艾草粉
To purchase please click here.
点击链接购买。