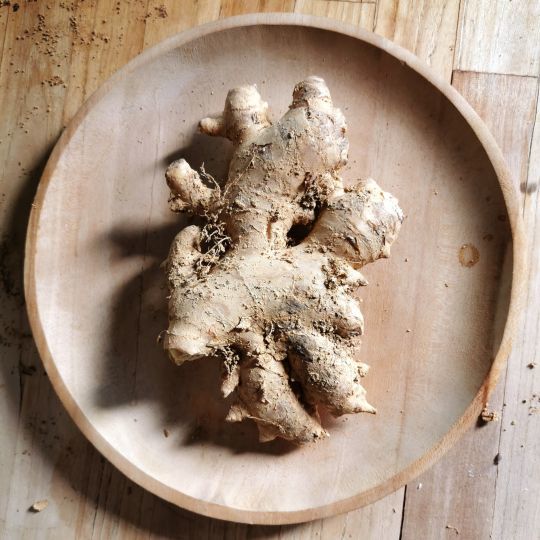 Bentong, located in the Western part of Pahang, Malaysia. Bentong ginger is a ubiquitous sight in farms that sprawl all over the mountainous region of Pahang in Malaysia.
文冬,位于马来西亚彭亨州的西部。文冬生姜遍布了马来西亚彭亨州的整个山区。
With the fresh air and fertile soil that the temperate area is blessed with, Bentong ginger is well-endowed with nutrients like gingerol, which has medicinal benefits that help to alleviate digestive problems and nausea, and respiratory conditions. Gingerol is also responsible for ginger's spicy sensation, woody aroma, and pricier than ordinary ginger.
新鲜的空气和肥沃的土壤,文冬姜含有丰富姜醇等营养素,具有药用的功效,有助于缓解消化系统的问题和呼吸系统。文冬姜具有独特的辛辣味和木质香气,价格也比普通生姜来得高。
Many consider ginger soap to be a good facial and skin cleanser. Ginger is known to improve circulation in the body. An increased blood flow, combined with the warming properties of ginger soap, can help lead to vibrant and healthy looking skin.
姜皂都被众人认为是一款非常好的洁肤产品。文冬姜可以改善体内血液循环,而文冬姜汁原有的辛辣功效加入皂后可以帮助恢复健康的皮肤,但是放心文冬姜汁入皂后并不会给皮肤带来有刺刺的感觉。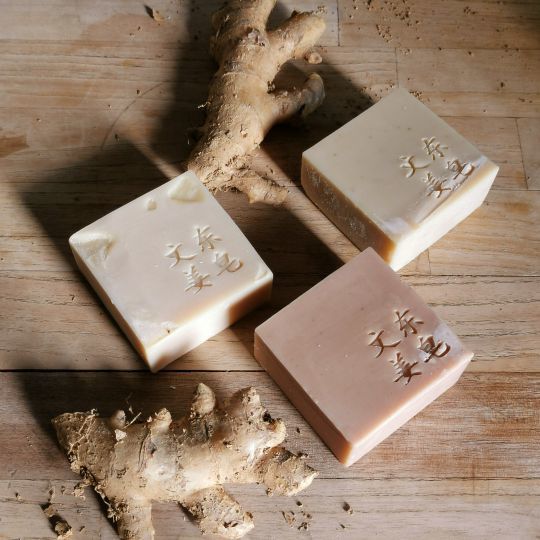 Bentong Ginger is a wonderful home remedy for everything from an upset stomach to cold and flu symptoms. But did you know it also has some impressive beauty benefits? It's true.
文冬姜都是一种非常好的居家疗法,从感冒到身体的任何不适都可以利用文冬姜来舒缓任何不适的症状。而文冬姜也对美容有极好的功效哦!
1. Anti-aging 抗衰老
Bentong Ginger is abundant in antioxidants that are responsible for not only increasing blood circulation but fighting off free radicals that protect our skin, prevent dull skin, fine lines, and wrinkles, and keep skin looking youthful.
文冬姜含有丰富的抗氧化剂,不但可以促进血液循环,还可以对抗自由基,保护我们的皮肤,防止皮肤暗沉、细纹和皱纹,并使皮肤看起来年轻。
2. Blemishes 祛痘效果
With its powerful antiseptic properties, Bentong Ginger Soap eliminates acne-causing bacteria that clog pores to clear up skin imperfections and reduce the inflammation caused by unsightly blemishes.
文冬姜具有强大的抗菌功效,可以消除细菌引起的痤疮,因为细菌会堵塞我们的毛孔。从舒缓皮肤上的痘痘,也可以舒缓一些皮肤的过敏和炎症。
3. Radiant skin 光亮的皮肤
Besides cleansing, fighting blemishes, and making your skin more radiant, Bentong Ginger Soap also helps on toning our skin, moisturize and soften the skin, leaving it supple and glowing.
除了洁肤、对抗斑点和拥有光亮的肌肤。文冬姜皂还可以帮助改善我们的肌肤、滋润和软化皮肤。
4. Skin Burns 皮肤灼伤
Bentong Ginger Soap will come to the rescue if you're suffering from skin burns.
当灼伤的皮肤开始愈合,文冬姜皂都适合使用在灼伤后的敏感肌肤。
5. Goat Milk 羊奶护肤
Our Bentong Ginger Soap has added goat milk that works for all skin types and has multiple benefits including boosting moisture levels, repairing the skin's barrier, preventing fine lines and wrinkles, and reducing acne.
我们家的文冬姜皂除了天然成份,我们也加入了适合所有肌肤的羊奶,因为羊奶具有多种好处,包括修复皮肤、防止细纹和皱纹、减少粉刺。
We have 3 types of Bentong Ginger Soaps that suitable for:
我们拥有3款文冬姜皂适合:
1. Bentong Ginger Soap (Normal Skin) 普通肌肤
2. Bentong Ginger Soap (Dry & Sensitive Skin) 干性和敏感肌肤
3. Bentong Ginger Soap (Oily Skin) 油性肌肤