Breast milk is a mother's gift to herself, her baby and the earth
Pamela K. Wiggins
Free from all harsh chemicals.
Our customized breastmilk soaps are free from all harsh chemicals such as Paraben, alcohol, SLS. Thus, it is very safe for sensitive and eczema skin. The high glycerin content in our soaps leaves your skin soft and supple in the most natural way.
Benefits of using breastmilk soap:
For the child:
Prevents the development of Eczema

Moisturize and soothe the skin

Effective cleansing properties

Provides antibacterial and healing properties

Promotes healing and relief to diaper rash, circumcision wound, and cord stump
For the mother:
Effective cleansing properties

Significantly provide relief for eczema and skin irritation.

Soften and moisturize the skin

Treat problem skins
All of us understand that milk has incredible properties, and utilizing it in a bar of soap is not something brand-new. As the homemade soaps trend has rapidly captured on, breast milk soap is among the most recent high-end handmade products.
For mothers who would merely want to utilize their excess breast milk or breast milk that has currently past the expiration date for usage, breast milk soaps are an alternative method in which their infants and themselves can still use its advantages.
It's extremely recommended that soap constructed of breast milk needs to be utilized just by the mom from whom the milk is produced and for her child to whom the milk is produced.
Below are the 4 types of Breastmilk Soap: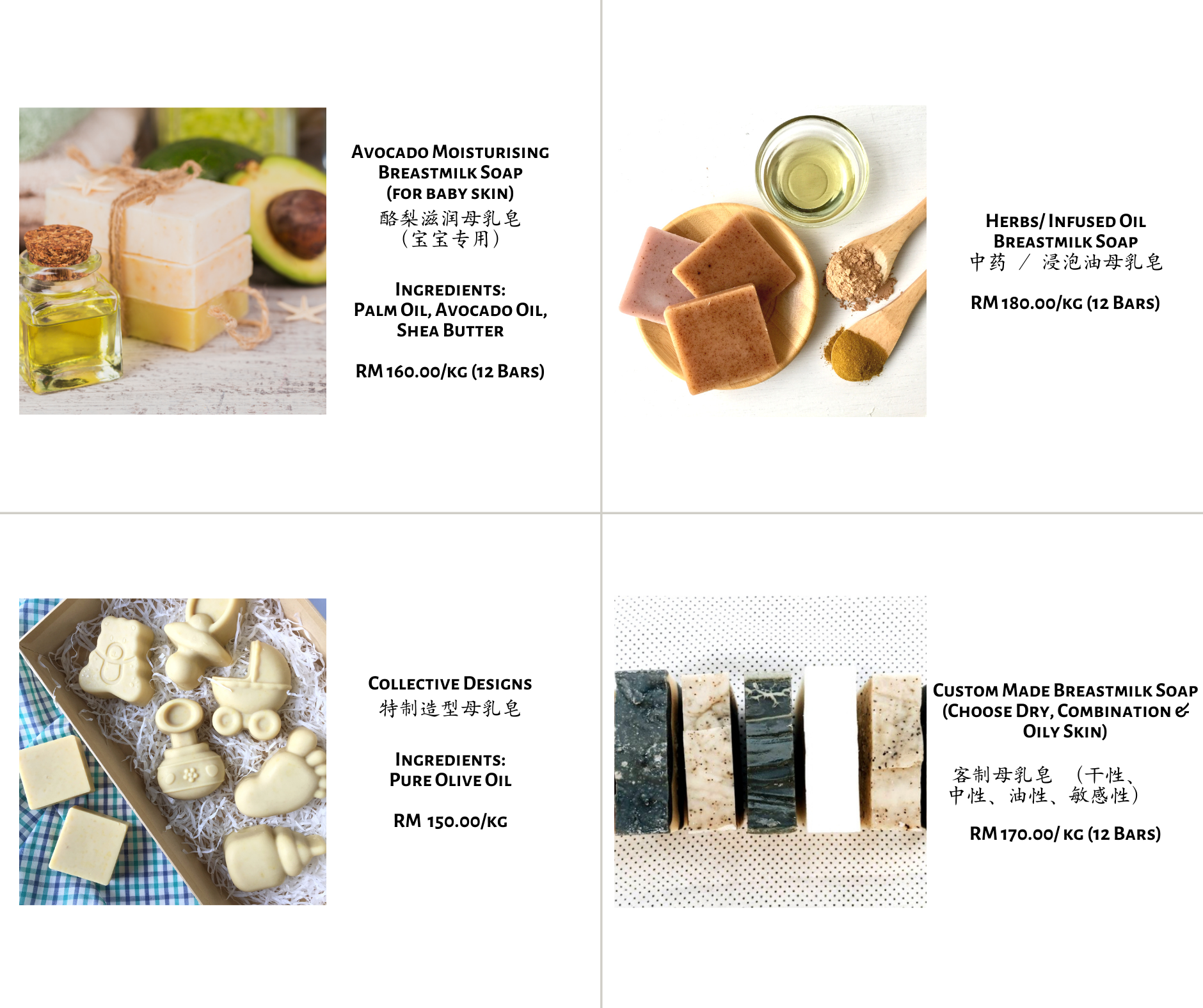 **Cold-Process soaps are only ready for collection after 45 days for the curing period.
Order for

2kg and above

to enjoy a

20% discount

Price including ingredients

All are handmade

Free adding essential oil

No artificial colorant

No artificial fragrance

No harmful chemical

300ml of frozen breastmilk must be ready by the customer

Please do not hesitate to contact us for more information regarding custom made order.
To enquire about the customized breastmilk soap, please 
start here

.